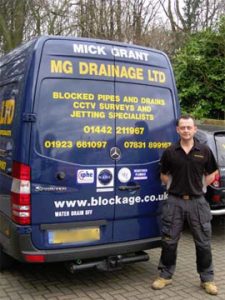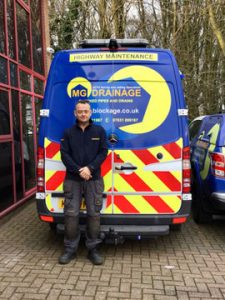 MG Drainage Ltd was first registered in 2000 but we have been trading as a drainage specialist since 1991. The growth of our company has been closely monitored ensuring that the personal aspect and standards of our business are maintained, whilst still being able to service the needs of all of our customers.My name is Mick Grant and I am the Director of MG Drainage Limited. I have a plumbing background which began with an apprenticeship with 'Economic Plumbing' starting in 1984. Economic Plumbing was a London based property maintenance company and at the time was one of the first, and largest, companies to offer this service. My tasks were basically as a plumbers mate mainly involving jobbing work all over Central London. This covered all aspects of plumbing, including original skills of the trade that now no longer exist. I completed three years at Willesden College of Technology and obtained my City and Guilds qualifications in advanced plumbing, sanitation and heating. I have been a member of CIPHE since 1992.
After my apprenticeship I continued to work for Economic Plumbing as a jobbing plumber and was also involved in various other trades such as roofing, heating, drainage, carpentry and electrics. I left the company, at the time in existence as 'GKN Economic', in the late 1980s and began working for 'Davenport Property Services' as well as concentrating on my own work. This was mostly plumbing and heating services, both emergency and installations. I qualified and became a registered CORGI installer.
I continued along this path until I realised that I could provide a specialised drainage service to my personal customers and therefore began to progress in this direction, concentrating more on my own business. I invested in the equipment required and started off as a one man operation. The amount of work I obtained rapidly increased through recommendations, and it has continued to do so ever since. As a result the company I originally started has grown to service these needs by employing other engineers and running a fleet of equipped vehicles. We still maintain excellent working relationships with many of our original clients.
The operations and services we can now provide have expanded considerably and in May 2010 we moved to larger business premises in Hemel Hempstead, Hertfordshire.
As my business has been growing, so has my family. My wife, Becky, works tirelessly managing the office to keep MG Drainage in check with the help of my beautiful daughters Chlöe and Sophie. Unfortunately, I haven't been able to convince any of them to accompany me down the drains! Aimee, my first and also beautiful daughter, was involved in the company for a good few years too. She was in a controlling role of managing the engineers and daily operations, and although she has now moved on to other things…. many of her changes and procedures still exist.
It is still very important to me to ensure the quality of our work and the standard of the services that we provide are maintained, our company identity has been formed on this basis. We have achieved SAFE contractor accreditation and are proud to be a member of the National Association of Drainage Contractors which is actively working to raise the standard in the drainage industry, something which is long overdue and we completely support.
Throughout my time in the plumbing, heating and sanitation industry I am grateful for the time and knowledge of the following people: Ted Meany, Alan Alexander, Les Robson, Terry Ryan (RIP) and Mac Chamberlain. I have learnt a lot from each and they have had an effect on how I am today and ultimately my values and working ethics. Thank you.